这次HBase Conference Asia 2019主要分为两个部分,一部分是Key Note,另一部分是HBase Internal

下面我为大家主要介绍一下这次会议的亮点和未来的趋势。
HBase的现状及发展趋势
HBase目前的稳定版本还是在1.4.x。2.x版本优化了很多的新特性,比如offheap的读,region状态合理化,procedure v2架构,减少对hdfs和zk的依赖,等等等等。
发展方向
HBase项目目前由小米公司主导了2.x版本,没错就是小米。HBCK2这个非常重要的运维工具由Cloudera开发。所以对于HBase这个产品在出现一些故障时是通过procedure v2架构自恢复还是使用HBCK2由人工界定来恢复一直处于拉锯状态。目前来看是小米占了上风(刚诞生一个主席,更加有话语权)。
云原生HBase
对于HBase云原生和最佳迁移方案,阿里云走在前面。相关的详细资料和产品走传送门可以了解。腾讯云提供云主机给客户来搭建和运维,与我们自建差异不大。
SQL的支持
HBase是KV存储,不支持SQL和创建二级索引。社区有Pheonix提供支持,性能不好。对此各场有了自己研发的建立索引和搜索引擎。快手的BitBase和华为的Lemon SQL都是通过BitMap来实现的,BitBase近期应该会开源,可以期待一下。
硬件方法面的进展
来自Intel的工程师,主要集中在两个地方,一个是FPGA,一个是Persistent memory,一个侧重性能优化,一个侧重降低成本。
最后
下面是HBase Conference Asia 2019我参与了的部分PPT原文,从拍的照片手打出来的,后续社区应该会放出原版,我会在这里贴下载链接。提取码:i60j。
HBase拥抱云原生,逐渐脱离HDFS和zk在当时的现场是有些担忧和怀疑的,通过后面的深入了解这或许就是趋势。最后引一下全场最让我感动的地方"Community Over Code"。一个健康的社区比好的代码更重要,代码不好可以重构,脱离社区一个产品也将走向尽头。
Key Note
The current status of HBase BY Duo Zhang
The stable pointer
Currently still on 1.4.x
AM-v2 is still not stable enough
AM-v1 is not stable either
HBCK2
Can fix basic region assignment problems
A bit different from HBCK1
Still not powerful enough compare to HBCK1
Cluster status report
New projects
HBase Connectors
HBase Filesystem

HBOSS,HBase OSS(S3) Adaptor

HBase Operator Tools
HBase Native Client
HBase 3.0.0
Plan to cut branch-3 by the last quarter
Need to have a 'stable' 2.X release line first
'New' features

Fold namespace table into meta table(HBASE-21154)
Synchronous replication(HBASE-19064)
Off-Heap read starting from DFSClient(HBASE-21879)
Proc-v2 based ACL(HBASE-21602)
Reimplement sync client on top of async client(HBASE-21512)
Delayed
SQL Engine

Like CQL
Phoenix
Upstream of in-house solution

Splitable meta

Scalability
Optimistic to have this in 4.0.0

WAL abstraction

Remove the last unavoidable HDFS dependency
Cloud Native
HBASE-20952
Github PR is now available
Still need a jira account to file an issue…
The commit message for the PR should start with the issue number, for example"HBASE-12345 Test Github PR"
All other things can be done on Github
The Apache Way
Independency

Only PMC can control the direction of the project
Diversity

Community Over Code

A healthy community is a higher priority than good code
The advantages and technology trend of HBase on the cloud BY Chunhui Shen
Ali-HBase Core Scenarios
Message,Orders,Feeds
Monitor,Log,Tracking,IoT Data
AI Storage
Recommendation Search, BI Report
Use Scale
10000+ Nodes
100+ Clusters
300+ Million OPS
200+ PB Data
9000+ Users
Evolution of deployment
Physical machine, One HBase per APP,Exclusive ZK&HDFS per HBase
Multi-APP on Shared HBase,Use RSGroup for isolation,HBase on shared ZK&HDFS
Exclusive zk&hdfs per hbase
Relay on cloud infrastructure
Key points in deployment
Stability
Elasticity
Cost
Efficiency
When HBase runs on the cloud
How to unleash the energy of Cloud
The technology challenge and trend of HBase
Need elasticity
Expansion for shopping day
Burst traffic
Anomaly isolatic (Hot Key)
Measurement of elasticity Before Cloud Native
\[Time Of Capacity Expansion=Resource Preparation+Enviroment Preparation+Node Join In+Node In Service\] \[Resource Preparation+Enviroment Preparation=Traditional Datacenter:Hours To Days\] \[Node Join In+Node In Service=HBase:1To5 Hours\]
Create instance on the cloud
Virtualization Resource pool
Quickly create an instance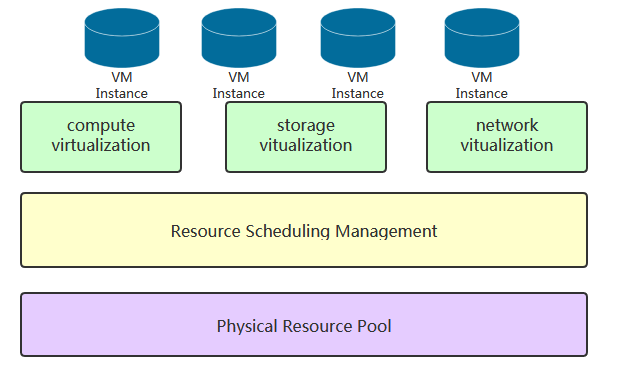 Measurement of elasticity Aefore Cloud Native
\[Time Of Capacity Expansion=Resource Preparation+Enviroment Preparation+Node Join In+Node In Service\] \[Resource Preparation+Enviroment Preparation=Cloud Platform:1To5Hours\] \[Node Join In+Node In Service=HBase:1To5 Hours\]
The value of elasticity - Cost
\[Waste Of Resource=Actual System Capacity-Actual Resource Requirement\]
The value of elasticity-Stability
Abnormal request to table t4
Add new node RS4
Move Table to the new group
Common situation when deploy on physical machines
| Cluster A | Cluster B | Cluster C |
| --- | --- | --- |
| CPU 5% | CPU 40% | CPU 20% |
| Storage 80% | Storage 30% | Storage 70% |
Different clusters (workload) have servers with the same hardware configuration.
After deploy on the cloud
Flexible ratio between storage and computation
Different clusters could have servers with the different hardware configuration
Separation of storage and computation
The same hardware configuration in one cluster, keep the maintenance be easy
HDFS heterogeneous storage
Table A
Table B
One_SSD
1 Replica on SSD
others on HDD
All_HDD
All Replica on HDD
Stability characters of Alibaba Cloud's ECS
Not aware of machine replacement(99.95% Availability SLA)
Not aware of datacenter migration(Never Retired)
The very low proability of machine downtime
Other common problems
Long compaction Queue
Replication Delay Too Much
Failover Too Slow
Multiple active masters at global scale with HBASE
No problem that can't be solved by increasing capacity and rebooting.On the cloud,problem handling becomes easier.
HBase Replication + Globally Distributed Datacenters=Multiple active masters at global scale with HBASE
Sepatate Storage of Log and File
| Storage | Write Performance | Read Performance |
| --- | --- | --- |
| Cloud SSD Disk | 1 | 7 |
| Cloud HDD Disk | 1 | 3.5 |
| Object Storage(OSS) | 1 | 1 |
Make use fo shared block storage
Shared block storage supports concurrent access from multiple ECS instances
SFS-A: Cloud Native Distribute File System Based On Cloud Shared bLOCK
Compaction On FPGA
HBase Internal
HBCK2: Concepts, trends and recipes for fixing issues within HBase 2 BY Cloudera
HBCK2 in a nutshell
Simpler tool

less fix commands
No diagnosis command
Requires deeper HBase internal working from operators

Shipped independently from hbase

packaged with hbase-operators project
Can evolve on its own pace
New versions can be run without needing whole hbase upgrade

Master oriented(more later)
HBCK2 Usage trends
Master not completing initialisation

Meta/Namespace table "Not Online" issues

Table RIT issues
Procedures stuck
Table in wrong state
Missing regions in META

User induced via imcompatible OfflineMetaRepair tool
HBCK2 For Operators: How do I get and run it?
http://github.com/apache/hbase-operator-tools
Further GC optimization: Reading HFileBlock into offheap directly
BDS: A data synchronization platform for HBase
The Procedure v2 implementation of WAL splitting and acl
Distributed Bitmap Index Solution And Lightweight SQL Engine